With the Fall season upon us, many customers are looking for fall inspired apparel, home décor, and hard goods. We love the opportunity it gives for new creative ideas that are tailored to on-trend markets. We've put together 5 categories that we think are well worth your attention.
CAMPING & OUTDOOR SPORTS
Especially during the pandemic, people are finding more ways to enjoy the great outdoors. With that in mind why not reach out to local shops or campgrounds and RV parks? These establishments generally have a small retail section where they sell apparel, tumblers, or other hard goods that are customized to their location. Instead of the typical sweatshirt decoration think outside the box and offer Digital Stickers, or a cooler with a custom Sign Graphic. These are great additions to offer your customers without having to invest in new equipment.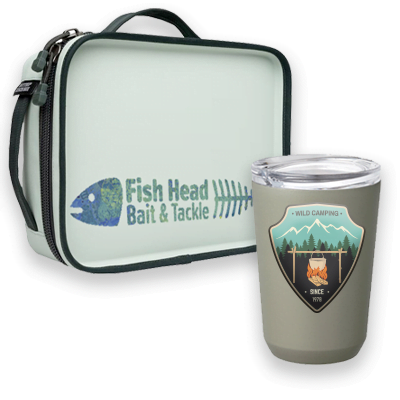 SPORTS & FANWEAR
Whether it's a local school or a professional team, we love our sports! In person or from the comfort of their couch, customers want to show their team pride. Try offering something new and creative like custom koozies or cornhole boards that help them represent their team. Of course, you'll never go wrong with the fan favorite crewneck sweatshirt.
SEASONAL HOME DÉCOR
Pumpkin spice and everything nice. Fall home décor is a huge market in our major retail stores so why not tap in on the fun! Sign Graphics are a great option for personalizing signs, front doors, and even glassware. Another popular accessory for each season is a custom throw pillow cover with your favorite HTV material applied. Celebrate the season with fun phrases or show your family love by custom monograms etc.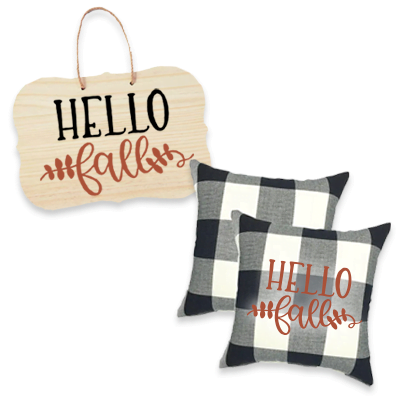 HEALTH & FITNESS
No matter the weather, a lot of people are focused on being active. If it's still possible to get outside make sure your customers are stylish and safe by using 3M™ Scotchlite™ on athletic wear, jackets, and even gym bags. If customers in your area have shifted back to gyms and health facilities, why not reach out to those establishments to expand their custom retail offerings with water bottles, towels, stickers and more on top of the shirts, leggings and hats they may already be selling.
No matter what items you choose to decorate there is no question that the fall season brings cozy, creative, and new ways to expand your horizons as a decorator. We hope these specific categories have helped you consider new ways to meet your current and prospective client's needs. Have an idea of your own but not sure how to execute it? Give one of our customer service representatives a call and we would be glad to help!
Have more questions?