First things first-we need to apologize. At the beginning of the year, Graphtec America came out with the NEW Graphtec CE7000 series and we forgot to introduce you! Something during 2020 must have distracted us… (Insert your choice of challenging events here).
So without further ado, meet the New and Improved Graphtec CE7000 series!!! This model series is an entry level class of cutting plotters for producing signs, decals and labels, heat transfer graphics for garments, rhinestone patterns and POP displays. With its wide variety of cutting applications the CE7000 remains one of the true leaders in cost and performance.
Graphtec CE-7000 Series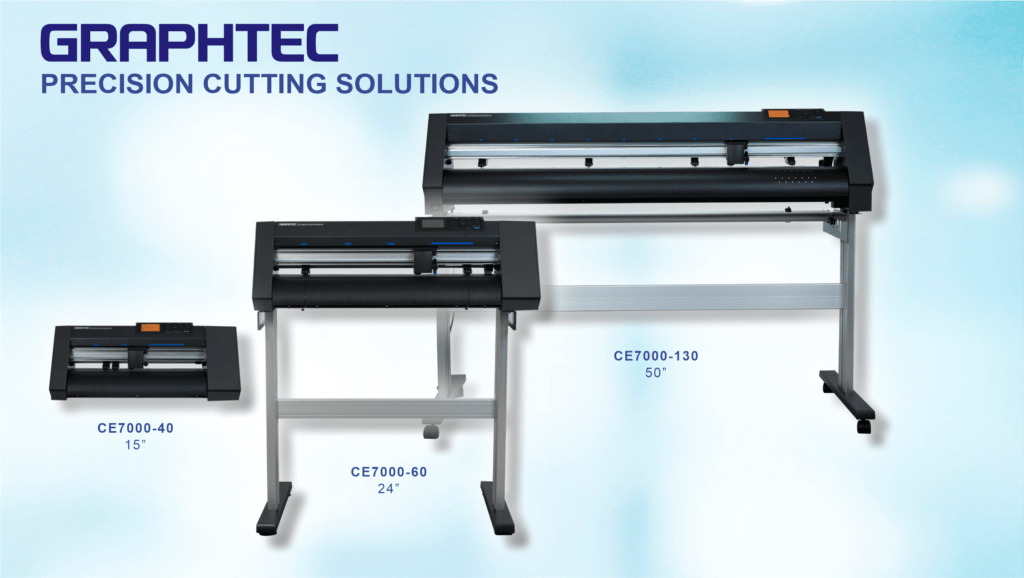 New and improved features such as:
 New and improved Advanced Registration Mark Sensing system or ARMS for print and cut applications.
A new datalink barcode system
 A new secondary USB port that has been added for thumb drives so jobs can cut independent of a PC.
 An available carrier sheet table (only on CE7000-40 & -60) that allows cardstock and other rigid materials to be contour cut for POP applications.

Print & Cut – ARMS
The Graphtec CE7000 reads registration marks and accurately contour cuts designs that are output from any printer. The newest feature of ARMS 8.0 is the addition of the datalink barcode system. Barcodes may now be generated and printed as part of the design which creates a hands-free operation. Designs are then read by the CE7000 which automatically loads cutting information and processes print and cut jobs.
Improved Tracking Features
There are also improved features for better tracking like the CE7000-130 with its push rollers that provide 3 levels of pressure. The provided stock media rollers with stoppers contribute to keeping the roll of media straight.
Cutting Features
The CE7000 series provides you with the flexibility to cut a wide range of materials such as thinner media including adhesive back high performance vinyl and delicate window tint films to thicker materials such as heat transfer and rhinestone template medias. It has features and functions for creating pop out decals that can be removed with the backing still attached for easy distribution. One such feature is the separate contour and die cut tool positions.
Operational Features
You'll enjoy some of the CE7000's useful features such as 8 recallable cutting conditions for your most commonly used materials saving you the added task of adjusting the cut setting each time you change the media. Graphtec's groundbreaking tangential emulation mode provides clean and accurate corners when cutting thicker material and it aids when cutting intricate designs on thinner medias.
Software
Each unit sold includes an easy-to-use Cutting Master 4 plugin for the latest versions of Illustrator and CorelDraw. It also comes with standalone Graphtec Studio and Graphtec Pro Studio design software.
Models
The series comes in 3 sizes – 15″ / 24″ / 50″. Each model has cutting speeds of 36 to 40 inches per second with an acceleration of up to 2 gs and an exceptional down force pressure of up to 450 grams. Stands and media brackets come included with the 24" and 50" sizes.
Peace of Mind
The CE7000 comes with a Limited 2-year parts and labor warranty. With Graphtec's sturdy and reliable architecture, the CE7000 Series embodies the very essence of what a low-cost high performance cutter should be. Now that's an investment!

Head to our website to learn more about the Graphtec CE7000: WellingtonHouse.com