Stahls'® Glitter Flake™ is now available!
With the addition of this material from Stahls'® we wanted to share some inspo from the manufacturer itself. An article published recently by Sarah Gulock in Stahls'® Make It magazine features some great ideas they have for using this product to help your dance teams stand out from the competition and increase your sales.
OPTIMAL BLING LEVEL
Glitter Flake™ is stunning visually but it works just the same as your normal heat transfer vinyl. It can be cut and applied using any vinyl cutter and heat press. It's also the best quality glitter finish because it doesn't flake off. This means it's tougher than it looks and lasts all season long while maintaining that optimal bling level. On top of that you have a massive color selection so it's easy to create custom apparel unique to each team or group. Here's some easy-to-create dance items you can offer.
PRACTICE/LEISUREWEAR
Add a little sparkle with Glitter Flake™ to create unique looks that can be worn during and outside practice. Jazz up a basic t-shirt or tank with their team name in all Glitter Flake™ or pair it with another HTV for a mixed-media finish. Practice wear is a great opportunity for add-on sales. You can offer on-trend apparel and be creative with material colors.
WARM-UPS/TRAVEL WEAR
Glitter Flake's textured surface allows it to be extremely versatile making it easy to decorate all the travel must-haves including duffle bags, Sherpa, fleece, and other textured fabrics that don't always work well with standard HTV.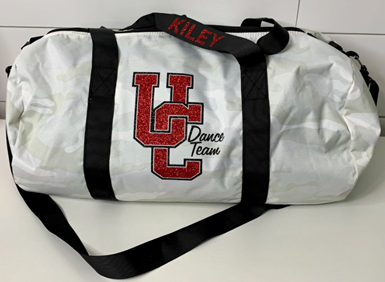 RHINESTONE ALTERNATIVE
When it comes to dance, rhinestones are usually the #1 choice for bling. However, it is a very tedious process and can become overwhelming and time consuming. Glitter Flake™ is a great solution for achieving the same look and feel of rhinestones without sacrificing any of the desired sparkle. It also allows you to decorate lighter weight garments without the heavy feeling of rhinestones. This is a great choice for personalizing warm-up jackets and pants, practice wear, leggings, and accessories.
BLING ON THE SALES
Personalizing sideline essentials with glitter is an easy way to add-on sales. Allow customers to add a dancer's name or initials to the front, sleeve, or pocket of an item for an extra cost. It'll be hard for them to resist their name in glitter. Fans in the stands means an opportunity for more add-on sales. Remember, dance fans love bling! Offer personalized items to parents, siblings, grandparents, and other members of a dancer's support team such as t-shirts, sweatshirts, or bags. Another quick and easy way to increase sales is to offer glitter personalization on the back of team t-shirts. This is a great add-on sale which allows fans in the stands to represent their favorite dancer. Plus, Glitter Flake™ is CPSIA certified so it can be used on apparel for the youngest of fans.
Keep in mind you can call or email us to request a sample of any of these materials.